Affordable housing, and particularly the Mount Laurel doctrine that mandates that every community in New Jersey has an obligation to provide its "fair share" of affordable housing, is under attack. While Governor Christie has been rebuffed by the courts in his effort to eliminate by executive order the Council on Affordable Housing established by the legislature to implement the Mount Laurel decisions, he has often stated his intent to change the makeup of the high court in order to get his way.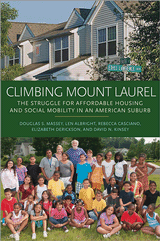 As the issue of affordable housing has become increasingly contentious, Princeton University has published an especially timely book refuting the widespread belief that the expansion of affordable housing adversely affects communities where it happens, by increasing crime and other social costs while dragging down nearby property rates. 
Authored by a team of scholars headed by the distinguished Princeton University sociologist Douglas Massey, Climbing Mount Laurel  lays to rest the myths that Governor Christie has built upon to stir support for his effort to roll back the affordable housing mandate from the courts.
The case study is the Ethel Lawrence Homes, named for the original lead plaintiff in the Mount Laurel decisions, and located after years of obstruction at the heart of Mount Laurel itself. As Fair Share Housing Center sought the necessary permits to build what eventually became 140 units for people with incomes ranging from 20 to 80 percent of the state medium, opponents raised every possible ill effect that could follow from that investment.  As Climbing Mount Laurel  documents, in stunning detail, none of these fears materialized.
Using sophisticated statistical analysis, as well as in-depth interviews with successful as well as unsuccessful applicants to occupy the new units, which were opened finally in 2001, Massey and his colleagues demonstrate that Mount Laurel taxes subsequently showed no significant deviation from trends in other like communities nearby.  Not only did crime continue to fall in Mount Laurel, most area residents were not even aware that the Ethel Lawrence Homes existed.
As part of the ongoing academic discussion about whether poor people benefit from being relocated from centers of urban poverty to opportunity-rich suburbs like Mount Laurel, Climbing Mount Laurel is equally sure of its results.  ELH's residents reported a significant drop in traumatic experiences in their lives, and their physical as well as their mental health improved significantly in the new environment. While their children did slightly less well in school than they had previously, the drop in grades was made up for both in the quality of the schooling they obtained and in the increased prospects for attending college on the basis of that schooling.
The residents at Ethel Lawrence are not the typical poor, having been culled from a large pool of applicants. They receive social services, including afterschool assistance for their children, that are not readily available elsewhere.  And the housing not only looks like other developments in the area, thus removing any immediate association that this is low income housing; it also has been sited to facilitate community, through the provision of play space for children and other group amenities.
Residents reported some dissatisfaction with their new lives, but their complaints paled compared to those associated with the places they left, most notably Camden, where crime,  pollution, and failing schools remain terrible constraints on even the most ambitious of families.
Governor Christie has bought into a charter school movement and generally backed anchor institutions in their ambitions to expand as his solutions to Camden's continuing tragic state. For those living in concentrated poverty who hope for something better, these initiatives are not enough. The governor should revisit his opposition to the Mt Laurel doctrine to assure  that there are more options for the poor to move to additional locations of opportunity. As Climbing Mount Laurel attests, the outcomes generated through such options can be embraced by everyone, regardless of party.