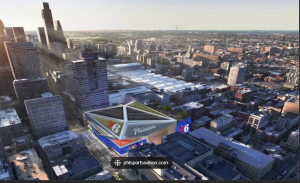 As has happened so many times in other cities, Philadelphia has been offered a great development opportunity, one that some critics see as a complete gamechanger in the upward trajectory of the city's 21st century revitalization. And like other cities, the golden goose is a sports arena located in an underserved portion of the downtown that promises new revenue for the city as well as new life for nearby businesses. Because the owners of the 76ers are extremely rich, they offer the new facility at no direct cost to the city, though an agreement that reduced property taxes for the site will remain in place until 2035.  Moreover, the team owners claim, in sprint of the George Floyd era, to make their number one goal "to work with the community to build an arena that serves as a model for equitable and inclusive economic development." Updated plans for the arena proposal can be found here.
As would be expected, reaction to the bold vision presented as been mixed, with immediate pushback coming from nearby Chinatown, whose very existence has been threatened before by projects with cosmopolitan goals, most recently failed efforts to introduce a baseball stadium and a casino to the area.  In city council, Helen Gym raised immediate objections, while others joined in, notably Debbie Wei, writing for WHYY and the Washington Post that the proposal was one more example of mega projects "putting profits before people."
Not so simple, defenders of the project have responded, including former Next City editor Diana Lind, who praised the project for locating atop a rail transit exit at 10th and Market Street. Chiding local officials for their hostility to denser, transit friendly development, she argues that the project could finally mark a turn from "old, bad social, economic and environmental patterns." Writing in the same Philadelphia Citizen outlet, Larry Platt, pointing to cities where development has had widely consequential with largely equitable results—Atlanta and Denver in particular and not Washington, DC, where a new sports arena indisputably hurt the adjacent Chinatown community—argues that the project could spur equitable growth, if done right.  Among Platt's hopes are that the stadium itself will prove more democratic as a place where citizens of all backgrounds mix, as they used to before investors privileged luxury perks that gave fans completely different experiences depending on how much they are willing to pay.
No amount of wishful thinking will assure a democratic experience once play is relocated from the 76ers car-dependent South Philadelphia sports complex. So how will the community be protected even as fans are assured access at fair prices? Looking to Brooklyn, it would appear that a community benefits agreement alone is not enough to protect Chinatown. Developers of Barclay's Center sought out their own community partners among those willing not to challenge the trajectory of building, with the result that a lot of interested parties got nothing in return for the traffic, noise, and other nuisances brought to adjacent residential areas. Platt leans heavily on the reporting of Kenneth Shopshire, who records the ways professional sports franchises have turned their stadiums into community centers. That doesn't seem to be the aim of the current plan, which is set to overtake a portion of a failing effort to revive an old James Rouse project in its new form as Philadelphia's fashion district. Publicity surrounding the plan concentrates on revived businesses that often accompany reconstructed sports franchises as parts of entertainment districts heavy on restaurants and other social diversions.
One measure of hope is the inclusion in the project of Mosaic Development Partners, a Black-Owned real estate company whose mission, according to their website, is to remove systemic barriers to Black participation in the real estate market. Such inclusion does not guarantee equitable development, as shown in Oakland where a similar partnership has not prevented conflict between the A's vision for a new stadium on the waterfront and the concerns of nearby residents and businesses. But such a partnership is a start and one that should be embraced.
Transit centered sports is certainly to be desired, but the very first task in moving the project forward is to work out a plan assuring Chinatown's benefit, not simply its survival as a pale adjunct to a glamorized complex nearby. There are lots of ways to do that through the more progressive elements of placemaking which have not just recreated spaces for middle class consumers but given existing, often ethnically distinct communities, the means to enhance, extend—and in this case defend—their own distinctive spaces. Philadelphia doesn't have much of a track record in this regard. But given the chance at a transformative development project, nothing less than taking steps to protect and preserve as well as to build would be acceptable