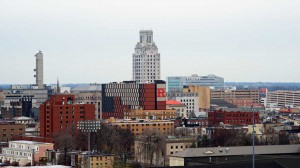 Well before "eds and meds" became a primary focus for revitalization strategies in post-industrial cities nationally, the State of New Jersey was placing a big bet on such institutions in Camden.
Under recovery legislation enacted by the legislature in 2001, Cooper Hospital and Rutgers-Camden were singled out for major investments, as anchor institutions that could spur the city's depressed economy.
Today that investment brought a major return with the creation of the Rowan University/Rutgers-Camden Board of Governors. Authorized under the Higher Education Reorganization Act of 2012, this new institutional partnership is designed to promote Camden as a major center in health sciences education.
This partnership is the alternative to the failed plan to have Rowan University take over the Rutgers-Camden campus. The board aims to bolster Rowan's new medical school at Cooper and to spur more investment in facilities that will link the two universities. A new $62 million Rutgers nursing and science facility expected to open within three years half way between the Cooper and Rutgers campuses serves as a first step in that direction.
The board's initial meeting today was upbeat. Camden Mayor Dana Redd, one of two representatives named by Rutgers-Camden to the board, said it was a great day for the city. Former New Jersey Assembly speaker Jack Collins, who holds his bachelors degree from Glassboro State before its name changed to Rowan and a law degree from Rutgers, was equally upbeat as he assumed the position of chair of the joint governing board.
Speakers at the opening ceremony assiduously avoided reference to the acrimony that surrounded the controversial proposal to merge Rutgers-Camden into Rowan. Instead, they stressed collaboration among the seven members intended to represent each of the board's constituent elements.
Because the legislature has granted the board powers of eminent domain and because the by-laws as passed today give the chair virtually unlimited powers to enter into contracts, there is reason to be wary about the board's intentions. Jack Collins assured his audience, including board member Robert Mortensen who questioned the chair's designated powers, that there would be modifications in the bylaws to assure board review of operational matters and transparency in its actions.
If Collins holds to his promise, this new initiative could be historically significant. The new arrangement falls short of creating a new Carnegie-Mellon as promoters of a merger had speculated, but the existing partnership between Carnegie-Mellon and the University of Pittsburgh has been rightfully credited with helping Pittsburgh make the transition to a thriving post-industrial economy. It can happen in Camden too.
Camden's problems extend well beyond its downtown institutions. Still, if the board lives up to its potential of attracting new research money to the city and facilitating associated opportunities for employment as well as educational training, its formation should be a milestone in Camden's long trek back from the depths.
This post originally appeared on WHYY's Newsworks site on April 7, 2014.