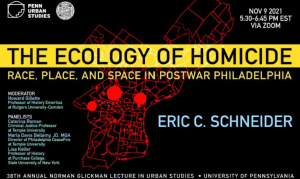 Last week's annual Norman Glickman lecture at the University of Pennsylvania featured the posthumously-published book by Eric Schneider, The Ecology of Homocide. Although covering only the period following World War II until the 1980s, Schneider's study of murder in Philadelphia had a number of powerful connections with the present gun violence crisis in the city. In that light, it only made sense to draw together a panel of experts not just from history but those on the front lines battling the contemporary crisis. We were fortunate, then, to have Temple University's Marla Davis Bellamy and Catarina Roman join with Lisa Keller of SUNY-Purchase and myself for a lively and insightful set of comments. The full program can be seen here.
Schneider's most powerful contribution was to bring to life the lives of those caught up in tragedy by mining the transcripts of the trials of convicted murderers. While students reading the book for Penn's Urban Studies senior seminar raised the issue of sensationalizing the lives of these people, panelists agreed that it was Schneider's ability to humanize a larger social-economic situation that made the book special.
Among the topics brought to the fore of special interest today was the city's unsuccessful effort to hold police accountable by forming, in 1958, the nation's first civilian review board. Lacking teeth for enforcement or access to information, the board ultimately frustrated activists sufficiently that they advised complainants not to bother pursuing their grievances. A new form of civilian review now being instituted should have more teeth, but its ability to assure justice has yet to be determined.
Also of interest was the way a student murder prompted Penn to use the powers available under urban renewal legislation to defend its perimeter from unwanted intrusions. An immediate victim of that strategy was the historically Black Black Bottom neighborhood which quickly gave way to what has since been known as the University City science center.
Most central in addressing the causes of Black on Black violence was the role of neighborhood-based intermediaries. Reflecting the work, most notably Uneasy Peace, of previous Glickman lecturer Patrick Sharkey, both Bellamy and Roman pointed to contemporary interventions of the kind Schneider describes in West and North Philadelphia.
With pointed questions from the remote audience and the acute observations of the panel, the evening attained a level of animation and insight Eric would have been proud of.