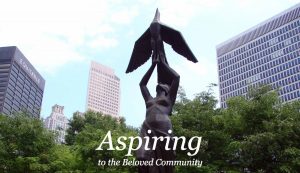 The election of a new mayor in Atlanta is unlikely to alter the city's commitment to pursuing a strategy of equitable and inclusive growth as defined and advanced by retiring mayor Keisha Lance Bottoms. Advanced by the Department of City Planning with a commitment to achieve a beloved community worthy of Martin Luther King's vision, the city has embraced a design process "that will perpetually challenge us to live up to our five core values of equity, progress, ambition, access, and nature in the hard work that lies ahead." Details of the approach are contained in the planning department's December 2020 publication Atlanta City Design Housing.
Like so many other cities, Atlanta has been growing in ways that have deepened long-entrenched inequities marked by both class and race. During the 2010s, the city reports, Black homeownership rose by about 4,000 households while white homeownership increased by about 12,000 households. Newcomers represented all income levels, but higher income households outpaced those earning less than $45,000 a year by about three to one, thereby heightening the city's wealth gap. From 2010-2018, 17,513 new housing units were added in the city, but of those, only 3,301 were priced under $1,000 a month, thus heightening the city's affordable housing shortage. The city's response, contained in its affordability action plan, sets a goal to create or preserve 20,000 affordable housing units by 2026.
Seeking to untangle itself from historically racist housing policies and their effects, the city has targeted its zoning code for reform, with particular emphasis on promoting density, both so that growth does not destroy remaining open land nor deepen the housing affordability gap. Specifically, the city seeks to increase development of affordable housing near transit, create flexible options for accessory dwelling units, and lower housing production costs by removing residential parking minimums in certain areas. 
Mayor-elect councilman Andre Dickens, who was endorsed in this week's run-off election by Mayor Bottoms, has supported the One Atlanta initiative and is expected to do what he can to make it happen.